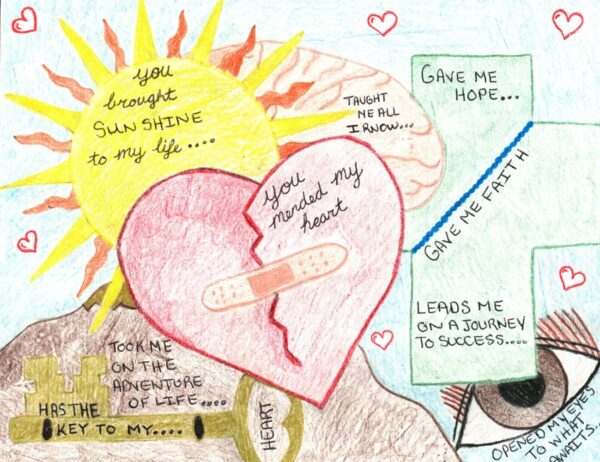 17th Annual Voices of Children 
For every child who can no longer live with his or her birth parents and is living in a foster home, about 10 more are living with relatives.
For 17 years, FESS has sponsored a contest asking those children to tell us about their life with their relatives through artwork or an essay. The winners of the contest were honored last month.
A reception for winners of the Voices of Children contest, now in its 17th year, has traditionally occurred at the Washington Governor's Mansion, but this year, the COVID-19 pandemic resulted in a virtual version, featuring First Lady Trudi Inslee, who has taken part in the ceremony for several years.
"We look forward to this every year," she said. "I appreciate everything kinship caregivers do." She urged the young winners to "take great pride in your accomplishments."
Six winners, two each in each of three age categories, were chosen from 50 entries submitted statewide. In words and art, they told stories of how their lives have improved since they came to live with relatives.
Juliana (age 6), Olympia, explained the emotion that drove her entry. "It's because I love mom so much."
Zaphera (age 9), said "dreams come true when you have a friend."
Kylee (age 12), thanked her grandma for "opening my eyes to the world."
Kinship Program Director Lynn Urvina said the children "understand what a difference their caregivers are making in their lives."
As part of their entries being chosen, each winner receives a free night with his or her family at Grand Mound's Great Wolf Lodge, along with a $100 gift certificate, courtesy of Twin Star Credit Union, a longtime partner for the contest.
"I always have a warmer heart after this event," said Amanda Stevens of Twin Star.
2020 Voices of Children Contest – by Micaela, (age 15) 
"Hi my name is Micaela and I go to Vancouver Washington deaf school. I go to school Monday-Friday. I come back home on Friday and my aunt waits for me at the Branding Iron restaurant. I was born under 2 lb and am hearing impaired. I read people lips to understand them.
I was raised by my grandparents my mom and step-dad would come and go into my life. My real dad is in state prison in Spokane the reason I know because my aunt told me. I have one brother and two other sisters. I just wish my mom would be a mom to me like I see other people out there with there parents. My mom & step dad are drugs addicts they choose to be with there friends than her own kids. Just maybe they will start being parents to us before it's to late.
When my grandpa passed away from stage 4 cancer it was on March 24, 2016 my birthday is on March 22, 2004. I was so heart broken because my grandpa said to me he would be home on my birthday it couldn't happen because he got so sick he couldn't leave the hospital and my grandpa pass away on March 24, 2016 so that just left our grandma to take care of us. Well that same year my grandma started getting sick but my grandma would tells us she ok. On Nov. 18, 2017 my grandma had stage 4 cancer and they told my grandma she only had 6 months to no more than a year to live. My aunt Rebecca had moved in with us so she can take care of her mom and us.
My aunt would take my grandma to her doctor's appointment any other places she had to go. So my aunt took care of my grandma until she passed away my grandma pass away on Jan. 8, 2018 and my grandma birthday was the next day we were all hurt when our grandma left us especially my aunt my sister's will hear her cry at night saying mom I need you more than ever what am I going to do without you. The reason I know because my sister will tell me.
The hardest part is that we didn't know who was going to take care of us. We found out by the state that my aunt Rebecca was going to raise. I need to tell you a little about my aunt she go out and beyond for us. She puts us first then herself. She takes us to our doctor appointments, dentist, eye exam, myself, my sister and brother had made honor roll she tells us your education comes first don't be like your aunt getting her GED diploma at age 46 year old it was hard for me to get my diploma. If my aunt wins the contest she will be my first on the list.                                                                       
Thank you,  Micaela"