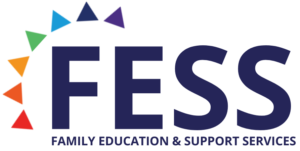 Welcome to Family Education and Support Services!
Helping you find YES at FESS!
Regional Resilience Center Thurston Office
6840 Capitol Blvd SE
Tumwater, WA 98501
Mailing:
PO Box 14907
Tumwater, WA 98511
Tumwater Office hours:
8:00AM-5:00PM Monday – Thursday
8:00AM-4:00PM Friday
Phone: 360-754-7629
Toll Free: 1-877-813-2828
Fax: 360 339-5505
Habla Español: 360-688-4120
Shelton Office
790 E Johns Prairie Rd, Suite A
Shelton, WA 98584
Shelton Office hours:
9:00AM-5:00PM Tuesday – Friday
Phone: 360-545-2060
Centralia Office
1911 Cooks Hill Rd., Bldg #B
Centralia, WA 98531
In the Northwest Pediatrics office
Our services are offered in:
Mason, Lewis, Pierce and Thurston Counties.
Keep Up With
What's New
Join our mailing list for new classes and events.