Family Education & Support Services (FESS) partners with the Mason County Health Dept. and WA State Health Care Authority to provide parenting education classes, called "Guiding Good Choices," to interested members of the public for no cost in Mason County. Anyone wanting to grow as a parent or caregiver is welcome.
These classes, offered through Family Education & Support Services' parenting education program, focus on strengthening and clarifying family expectations for behavior, enhance the conditions that promote bonding within family and teach skills to strengthen family resilience.
Classes are available as a series. The series will be available 6 PM to 8 PM every Monday from November 9 through December 14.
Guiding Good Choices is taught by a certified parent educator.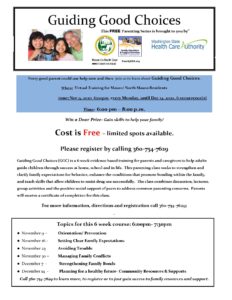 Registration is required.  This is a Live Virtual Training for Mason/North Mason Residents
For more information or to register, call 360.754.7629.
About FESS
Family Education and Support Services is a 501(c)3 nonprofit with a 20 year history of providing evidence-based family strengthening programs. Their mission is to inspire healthy child development by providing quality family education and support services. FESS believes that strong families begin at home, and that by supporting adults in raising healthy children they are also helping to create a thriving community