Voices of Children and Voices of Relative Caregivers Contest 
The Voices of Children contest is open to children and youth ages 5-19. Winners will be judged in three age categories through their artwork (such as the one pictured) or a short essay or poem. Poems must be no longer than 21 lines.
Winners will receive $100 from Twin Star Credit Union, a longtime partner in the event. They also will receive a gas card, a one-year Discover Pass for use in Washington's State Parks, as well as a State Parks bucket journal. The traditional trip to Great Wolf Lodge at Grand Mound was replaced with the parks pass because of the uncertainty surrounding the Covid-19 virus. It also enables winners in Eastern Washington to use a park in their geographic area rather than planning a trip to Great Wolf.
Winners will be chosen in May, and a Zoom ceremony for them will be announced soon. It is hoped First Lady Trudi Inslee can attend, as she has for the past several years.
See linked entry forms for more information, including deadlines. Winners will be announced in May.
FESS also has begun a second contest, Voices of Kinship Caregivers. About 47,000 Washington grandparents and other relatives are raising children. For the first time, FESS' new contest gives them an opportunity to write about their experiences as relative caregivers.
As with the Voices of Children Contest, relative caregivers can submit an essay or poem (21 lines maximum on the poem) to Tammara Newbill, tammara@familyess.org This contest does not include artwork.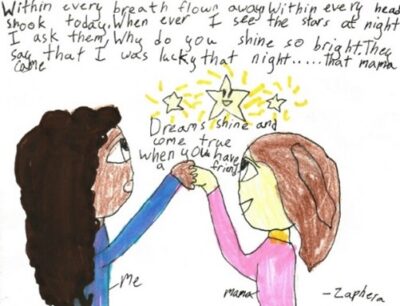 2021 Voices of Children
Application forms