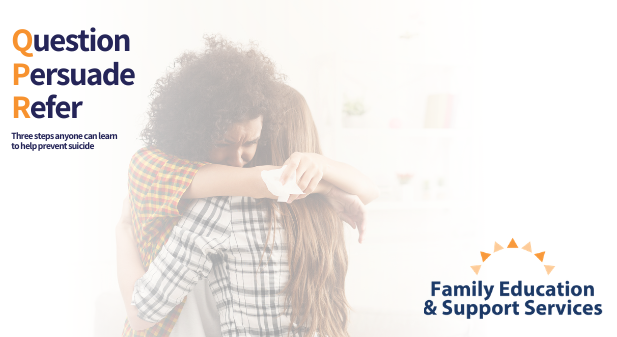 The statistics around suicide are staggering. In an average year in Thurston County alone, 40 people end their lives. This year is worse. The number was 48 by August.
Youth suicide is of specific concern. A survey reveals that 22 percent of 6th-graders have contemplated suicide, and that number increases by grade level. In the three weeks before mid-October, two young people in Thurston County had completed suicide.
Leaders in the local community are taking the issue seriously. Thurston County commissioners asked that a group be formed to work on suicide prevention. The group is called Thurston Youth Alive, and FESS Clinical Director Scott Hanauer is an active part of it.
Working with the county's health department, they have created a two-hour prevention training. It's called QPR – "like CPR for heart attacks, only this is for suicide," Scott said. QPR stands for "Question, Persuade, Respond," and it is designed to find out quickly what the potential situation is with an individual and act to prevent a suicide.
Scott recently had personal experience in preventing a suicide because of that training.
"I just instinctively knew what to do because of the training I had received."
He was contacted about someone who was contemplating suicide. He went through his checklist from training, realized the situation was serious and drove clear to Seattle to take the person to the hospital.
Like CPR, QPR is something adults can learn in a two-hour training and use if and when they need to.
"This is a way for community members to contribute to those who need help," Scott said. "And everyone is asked to keep their ears open for young people who need help and to reach out to them. A recent survey revealed 50 percent of kids say they feel like they have no one to talk to when they are anxious or depressed. They don't want to go to their parents, who may already be stressed out, and many kids don't believe their parents can help."
QPR Suicide Prevention Training
Family Education & Support Services' QPR Suicide Prevention Training provides practical and proven suicide prevention strategies and is taught in a clear, concise format. The course takes approximately 90 minutes and will be valid for three years from the date of training.
For more information or to Register for Training visit Familyess.org/qpr