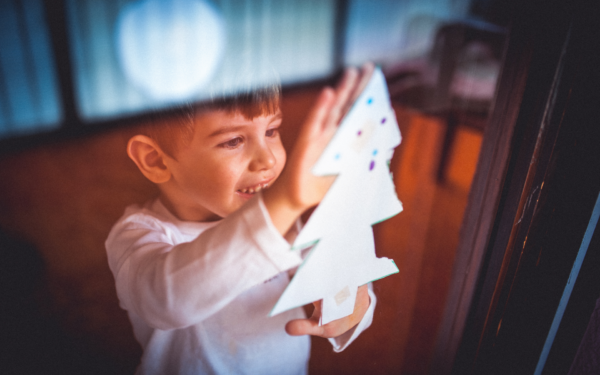 Ideas to help children enjoy the holidays 
Strategies and ideas for this Holiday Season: Finding ways to make this year special
Start a family Conversation: Acknowledge what has changed and how family members are feeling.
Find ways to make connections.
Keep to a routine and notice the good things.
Taking care of yourself this Holiday Season:
Eat well
Be active or move your body everyday
Engage in a relaxing activity  like yoga or meditation
Connect with friends and/or family
Get good sleep
Disconnect from all electronics for a bit each day.
Help children enjoy the holidays with ideas from some of these websites!
 Websites with fun and creative craft and STEAM activities
There's Just One Mommy has clever Christmas crafts from recycled and inexpensive materials.
 Buggy and Buddy is a great all-around site for craft, science and STEAM activities, especially for elementary-schoolers. Written by a former teacher, each project has accompanying photos. They are inexpensive and quick to make – just right for kids!
How Wee Learn – One of the nicest things about this website is that the activities are geared for busy parents. Projects like ornaments don't take an engineering degree and the supply list is usually simple – construction paper, paper plates, glue and egg cartons, for instance!
Websites with free coloring and activity pages to print
Crayola.com, as you can imagine, has free coloring pages for all age and skill levels.)
Family Disney coloring and activity pages (Kids will find many of their favorites, includes Star Wars, Disney princesses and more, plus crafts, recipes, printables and lots more fun stuff.
The folks at hp (Hewlett-Packard) have a great webpage with lots of activities and coloring pages for kids of all ages, as well as handy items like printable gift tags, table decorations and games.
Games and family parties
Liven up vacation with a big selection of game ideas, including minute-to-win-it games, at Play, Party, Plan. They also have some printables, including scavenger hunts. This is a good website for birthday fun, too, if you have someone with a birthday coming up.
Special needs
The Chaos and the Clutter is written by blogger Sharla Kostelyc, a busy adoptive mom of seven, some of whom have special needs that include sensory processing disorder and reactive attachment disorder. Many activities on the site are geared to helping kids who have difficulties with anxiety, sensory issues and other special needs.
Outdoor activities
Enjoy some crisp winter air! Mother Natured – Connecting Kids With Nature, is a website with nature crafts and play ideas, including a Christmas Scavenger Hunt. And you can turn your nature walk into an art supply run – those sticks, leaves and rocks can be turned into beautiful holiday décor with some of this site's project ideas.
For the littlest angels
See Views from a Step Stool, which has activities and crafts geared toward the baby-through-preschool set. Simple games like "Santa Says …," a take-off on Simon Says, will have your little ones jumping and giggling.
Ideas for teens and parents to do together
The Sharon R. Hoover website has 12 suggestions for enjoying parent-teen (or tween) holiday time together, including activities like serving together and geocaching.
 "The Parental Compass" with Bobby Williams will build your parenting skills 
"The Parental Compass," a series of podcasts, was launched earlier this year by Family Education & Support Services to provide all parents with access to evidence-based parenting information, ideas and on-the-ground resources that can help them hone their parenting abilities.
It is our goal to help parents build the skills, tools and confidence they need to be the best parents they can be. Here are some links to the podcasts.
The Parental Compass Podcast